Chocolate Lemon Cut-Out Cookies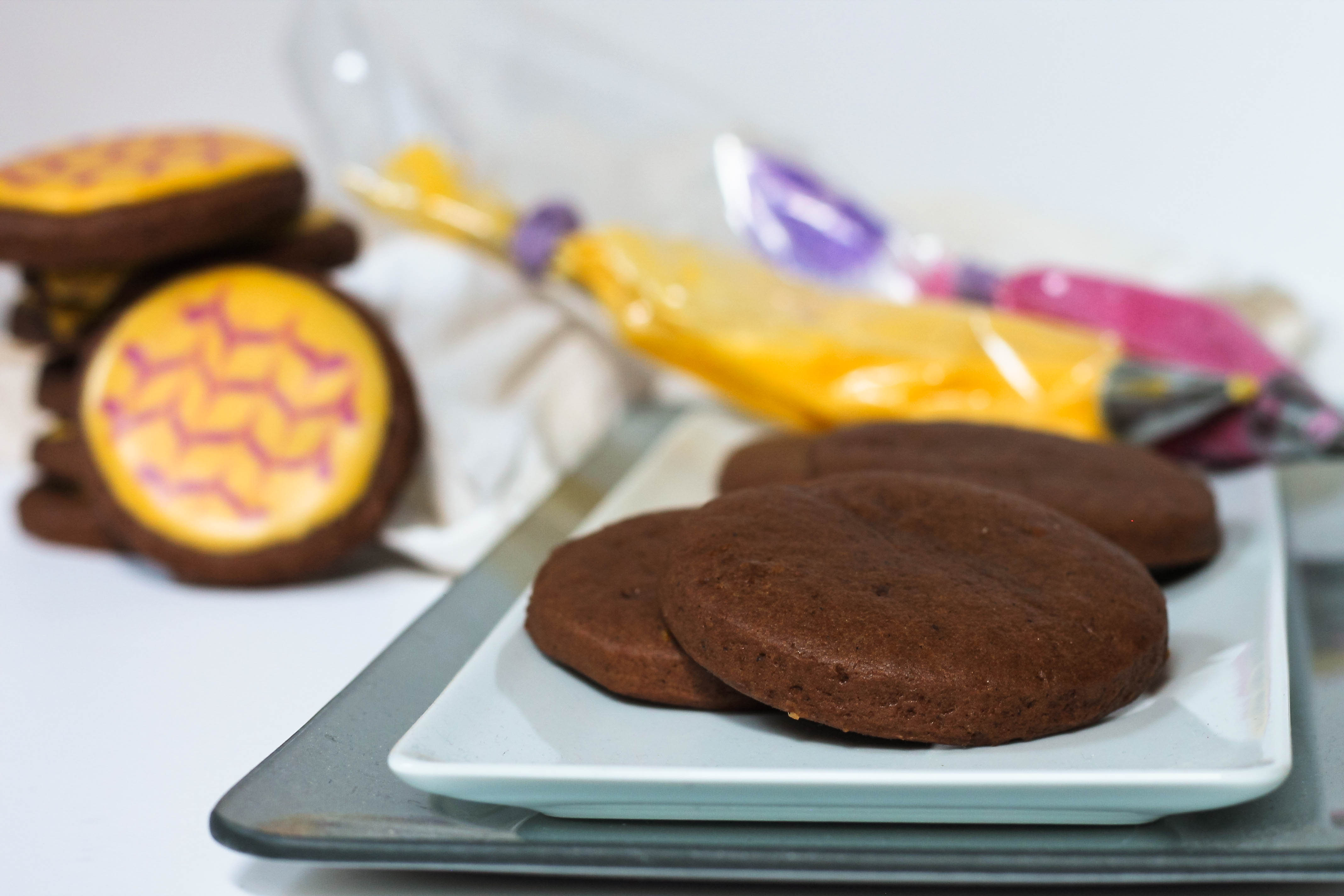 1½ cups + 2 tbsp all-purpose flour, spooned & levelled
⅓ cup cocoa powder
½ tsp ground espresso
½ tsp baking powder
¼ tsp sea salt
1 stick (1/2 cup) unsalted butter/vegan butter, cut into 1-inch chunks
½ cup granulated sugar
2 eggs, room temperature
zest of 1 small lemon (~1½ tbsp)
In a medium mixing bowl, whisk together the flour, cocoa powder, espresso, baking powder, and salt. Make sure to break up any clumps.
Using a stand mixer or electric hand mixer, cream the butter for 2 minutes, until pale in color. Add the sugar and continue creaming on medium-high until light and fluffy, 8 more minutes. Scrape down the sides of the bowl as needed.*
Lower the speed of the mixer to medium. Add each egg one at a time, incorporating the first before putting in the second.
Pour in the dry ingredients, stirring on low speed until just incorporated but there are still floury streaks. Add in the lemon zest, continuing to stir until there are barely any flour streaks left and the dough looks smooth, about 30 seconds more.
Wrap the dough in plastic wrap and flatten into a disc. Refrigerate for at least 30 minutes, preferably overnight.
Preheat the oven to 350ºF and line 2 baking sheets with parchment paper or silicone mats.
Remove the dough from the fridge and let sit for 10 minutes if it's too stiff to work with.
On a very lightly floured surface or between 2 pieces of plastic wrap/wax paper, roll out the dough to just under ¼-inch thick. Cut out the cookies with your cookie cutter or a thin-rimmed glass. Keep the shapes as close together as possible, so that there are fewer scraps. Remove the scraps and then carefully place the cookies on the baking sheets, about an inch apart.
Bake for 7-10 minutes, rotating the pans halfway through from top to bottom and front to back. Be careful not to over-bake, since the cookies will firm up as they cool.
Let cool on the pan for 5 minutes, then remove to a cooling rack. Store in an airtight container layered between parchment paper. To freeze, put the UNDECORATED cookies in a single layer and then stack them as needed once fully frozen.
Once the cookies are cool, decorate as desired. You can use frosting, sprinkles, or royal icing, like I did. A tutorial and a linked recipe for royal icing can be found above!
*This may take you longer if using an electric hand mixer.
Recipe by
Lenses and Lentils
at https://lensesandlentils.com/chocolate-lemon-cut-out-cookies/