Deep Dish Pumpkin Chocolate Chunk Cookie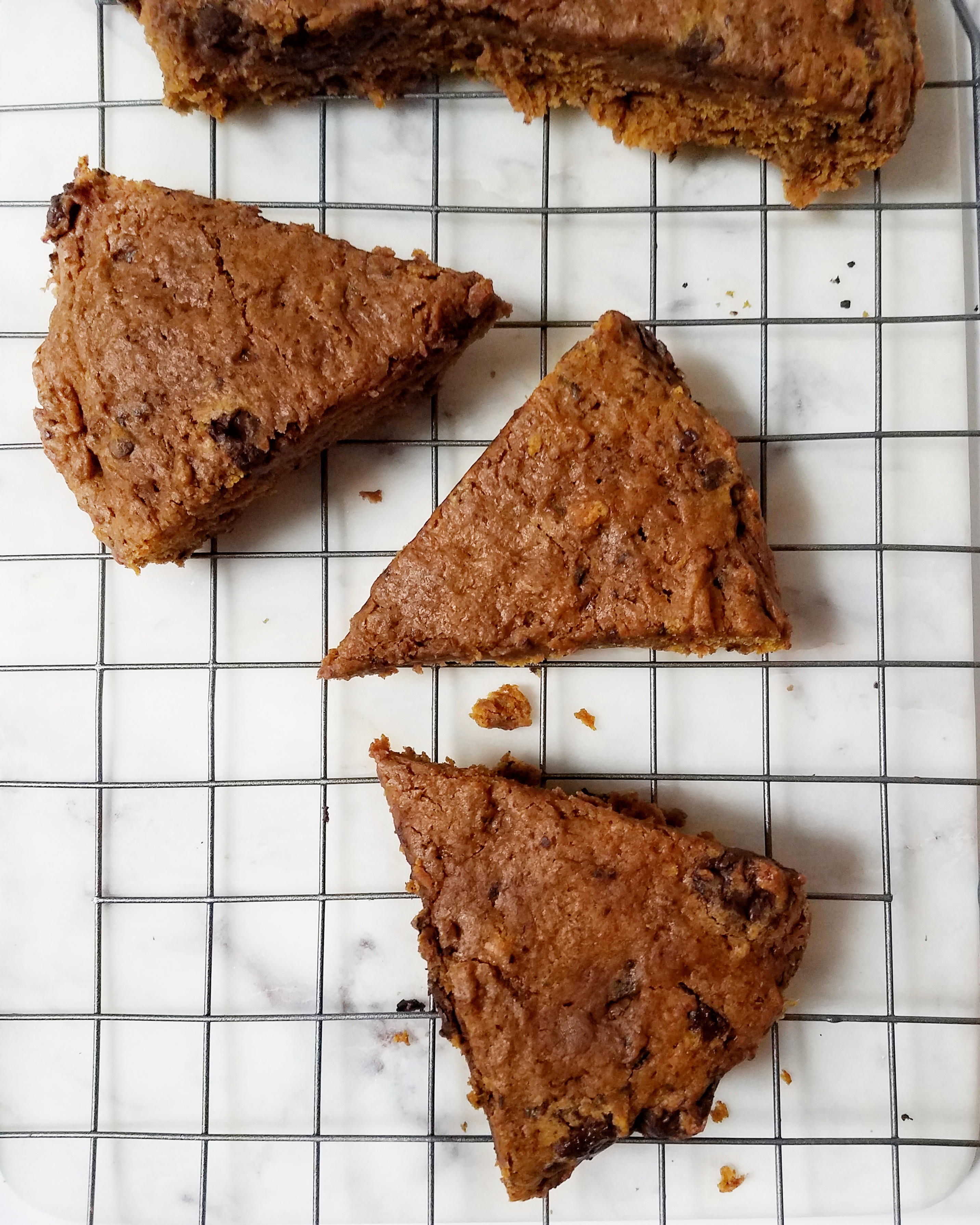 ⅓ cup + 2 tbsp coconut oil, softened
¾ cup coconut sugar
2 eggs
⅔ cups pumpkin puree
2 tsp vanilla extract
1¾ cups all-purpose flour, spooned and leveled
2 tsp cinnamon
½ tsp baking soda
½ tsp nutmeg
½ tsp salt
¼ tsp cloves
3 oz dark chocolate, roughly chopped
Preheat the oven to 325ºF. Line a round 9-inch baking dish with parchment paper and set aside.
With a mixer, cream together the sugar and oil for about 2-3 minutes, until smooth and fully combined. Pour in the egg, pumpkin, and vanilla extract, continuing to beat for another couple minutes.
Reduce the speed of your mixer and slowly add in 1 cup of the flour. Once that is mixed in and the dough begins to thicken, add the baking soda and spices, then the remaining flour. Mix until just combined; it's ok if a little bit of flour patches still show.
Using a silicone spatula, fold in the chopped chocolate. Next, put the dough into your prepared dish and smooth with the spatula.
Bake for 30-35 minutes, until golden at the edges and a toothpick about ⅓ of the way in from the edge comes out mostly clean. Choose the shorter time for a gooier center.
Store it in container at room temperature for 4 days, in the fridge for 7, or in the freezer. Served good warm or cold.
Recipe by
Lenses and Lentils
at http://lensesandlentils.com/deep-dish-pumpkin-chocolate-chunk-cookie/